Joined

Oct 20, 2022
Messages

8
Here's my dilemma.
I found an old farm house location and I don't have anyone to ask permission. I always get permission unless it's public land.
The land is in a trust for someone in a city 4 hours away. It's just an investment for them - instead of putting their money in the bank they put it in land. I have the person's name and assume the trust is managing it for them.
Through the local co-op i found out the farmer is a corporation that farms over 10,000 leased acres in the tri-state area and has operations all over the Midwest, the headquarters is on the east coast. The farm equipment is kept about 20 miles away and everyone there are just workers with no authority. It's not your father's farm anymore.
Should I just go for it, it's on a one lane back road with the closest neighbor is 3/4-mile away. The buildings are torn down and just large trees are left and the workers are using the property to enter and exit the field. The only reason it isn't all field is because of the large trees. Where the barns stood is thickets. The beans are harvested and the ground lays idle.
Before (2016)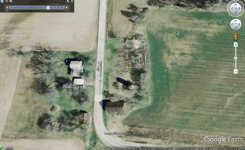 Present day looking south