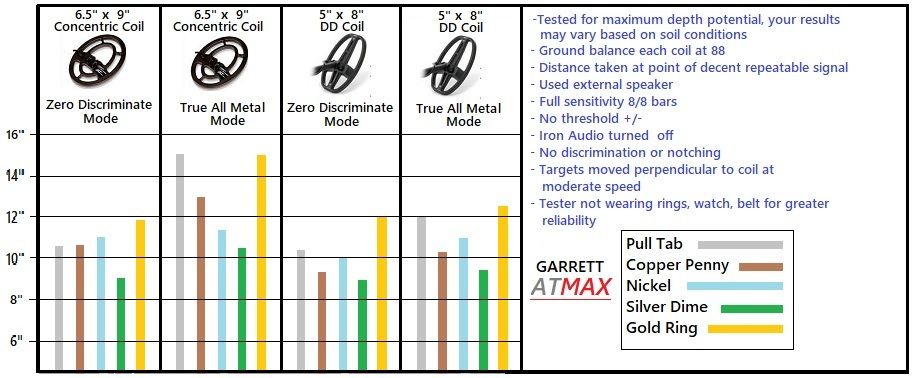 Interesting results......now you will most likely no get these depths in your soil. The greater the mineralization, the more the depth will suffer. And, if there is a lot of mineralization, the 5" x 8" DD coil will probably do better depth wise over the 6.5" x 9" coil. However, in the medial conductivity range, gold/pulltab area, the 6.5" x 9" concentric coil really out performed the DD coil, by a substantial margin.
On the plus side of concentric coils, they get a better degree of accuracy identifying targets both audibly and on the screen. This is a real bonus, if you are a jewelry hunter, and hunt parks for coins and jewelry. They also perform well in the water. If you learn to pinpoint off the inner front toe, as you hold the pinpoint button and move the coil from the center back away from the target, the point where the target cuts out is dead center of where the target is. Another trick when pinpointing this way, is to listen to the audio when it cuts out. The faster it abruptly stops, the more shallow the target is. So, without looking at the screen, you can estimate the depth of the target. Concentric coils also tend to read screw caps not as a coin, but junk. This seems to be typical on all concentric coils.
On the plus side of DD coils, they work better in higher, mineralized soils. They may outperform a concentric coil by separating targets in junky areas, but not by a whole lot.
Both these coils work well in the woods, where saplings are plenty, in rocky areas and in the water, when you need a smaller coil but still need good depth to find targets.
Take a good lock at the graph, and see how the two coils differ.
Below is a quick diagram on how to pin-point off the inner coil on the toe end. I suggest you get some liquid white out, and make a nice small dot, as shown on the coil.