Graduating from an Ace 250 I have quite a lot to learn on the use of the Equinox 600 to say the least. But here's 2hrs worth from yesterday of finds near a PA Union canal site using the 11" coil. I didn't include all the pull tabs, shotgun shells and aluminum. Notice the piece of wood with the .22 lead imbedded found at 11".
And from today at a one room schoolhouse next to my home with the 6" coil.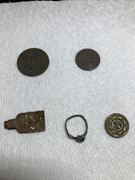 I'm impressed so far at how deep it finds small objects. So much more to learn on this machine.
Steve