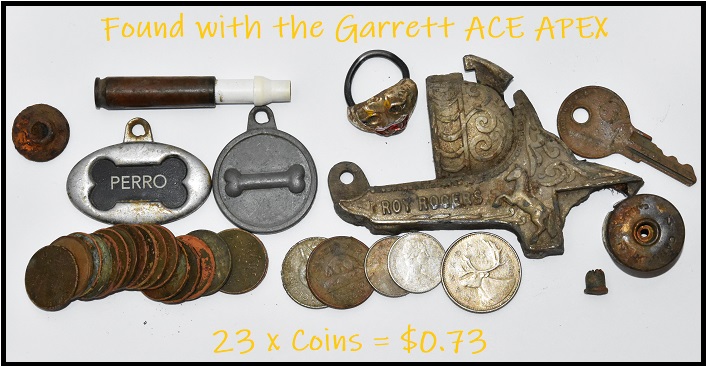 I hate using the old cliché "I detected in a hunted out spot"......but, I hunted an old area containing woods, parkland and damaged grass where an old school used to be. I have hunted this area with my friends for 25 years, along with others. Anyhow, like many say, a place is never really hunted out.

I hunted in all metal mode, multi-frequency, maximum 8/8 sensitivity and a ground balance of 85-87. Both 1934 (fraternal pennies) coins were dug at about 6-7 inches. Both gave off a signal, a bit broken at times 78-81, a signal anyone should and probably would dig. The dime read 81 and was down about 5 inches. It gave off a nice, pristine clear signal. There were several targets I started to dig that read in the middle 80's, hopefully identifying a silver quarter or a silver ring. Getting excited, I forgot to do my depth test, started digging anyways, and stopped at about 10 inches. I moved my coil over the target, and was sill getting a clear signal at 2 feet. I should of checked first! Maybe a pail of coins, but probably some junk non ferrous material. Being in an open area at a park, I chose to just move forward and leave it in the ground.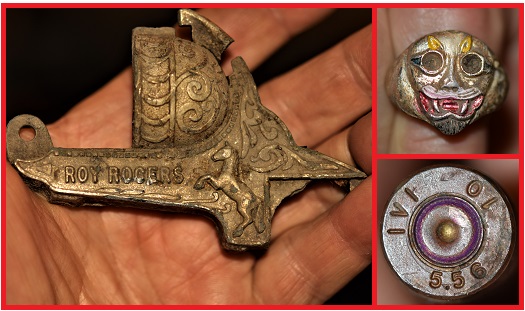 I also dug up part of an old toy cap gun. It would have been an excellent find if it was still intact. Roy Rogers and his horse Trigger was a famous TV show I used to watch when I was I young little rat. That ring sure is "ugly" eh! And the headstamp of a fired bullet, with a white thingy sticking out of the end. Not sure what it is or even if it is supposed to be there?
Got nice weather......below is a pic of the flour gold I dug out of the North Saskatchewan River yesterday. Pretty good hull for about 4 1/2 hours. My highbanker is 10" x 36".