Having trouble using your detector at the beach? Read this...
Since the 1960's, enthusiasts have learned to make adjustments to
single-frequency VLF detectors
to find targets at salt water beaches. Newer machines may even have special software programs to help compensate for salt water, but often times these adjustments
lose depth and/or sensitivity to small targets, give random erroneous signals, and eminate noisy chatter
. For those of you plagued with these results, a great alternative is upgrading to a multi-frequency or pulse induction machine.
Multi-frequency detectors
will compensate for the conductive salt and mineralization, and usually without losing depth and sensitivity. Further benefits of M/F detecdtors include
typically running quiet and giving an honest signal
, e.g., if it beeps, there is a real target. M/F detectors consequently cost more than most S/F detector and that price increases if you want them waterproof. Perhaps the key benefit of a M/F detector is it can discriminate unwanted targets like iron. This means you can cherry pick targets and make the most use of limited time.
PI or
pulse induction detectors
are the cost efficient alternative to MF detectors. They
work great in salt water
, but the caveat is they do not discriminate (well).
The following chart provides a list of the major manufactures of MF and PI detectors. You can use this list to narrow your selection of a competent salt-water detector. Also be sure to contact our
forum sponsors
(dealers) for the best price and availability!
Happy Hunting! -David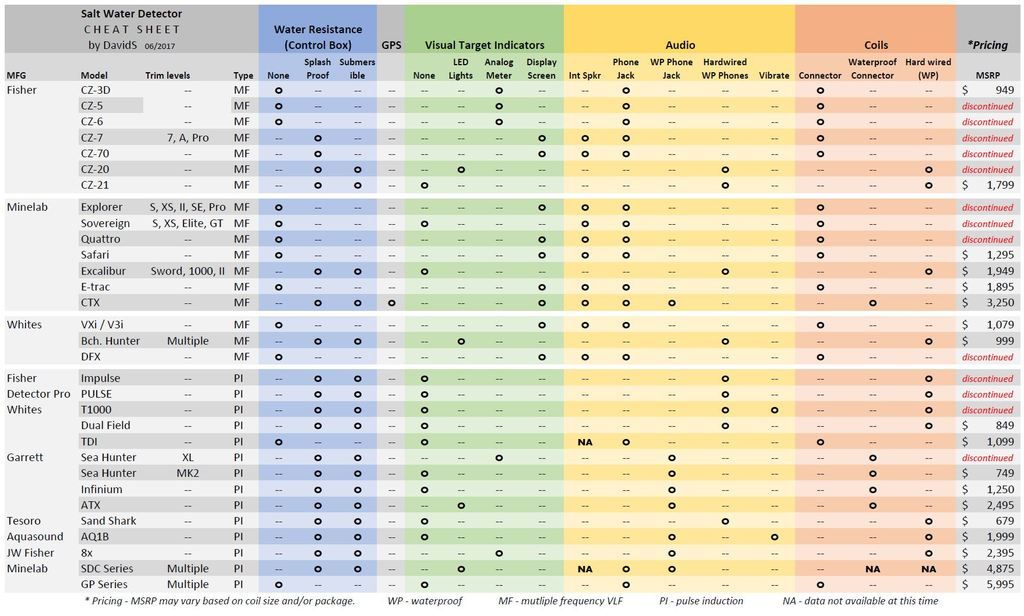 Sent from my SM-G920P using Tapatalk