There are many different pattern and tonal mode combinations. Really depends on the desire targets. Gold rings are often low conductors - but so is foil. Nickels are in the same zone as some bottle caps and pull-tabs.
But, generally, you use an open screen (or nearly so) as Pattern1. The more disc the less sensitivity to low conductors - the effect with even a little disc can be dramatic (meaning - with disc the detector can become gold dead. The CTX is already struggling with low conductors, lose more sensitivity and woman's rings are gone. It's main transmit power is at 3.125kHz, which isn't going to excite low conductors to respond much, i.e., drive eddies. That's great in reducing reaction from iron, but not good with jewelry. The harmonic at 25kHz has much less xmit power. Those are the two xmit freqs the CTX uses - so small gold will be missed if it is a bit deeper).
By the way, noise channel11 will raise the xmit freq by about 10% (and channel01 lowers it by 10%. Channel06 is uncorrected). On the one hand it may help to have Ch11 set to improve low conductor reaction, might help with jewelry - but on the other, the offset is meant to avoid interfering freqs from the surroundings (may not be an issue in the woods, ghost towns, or farmlands, or in the morning before people start using EMI producing machines). The risk of not using auto noise cancel (and setting it manually) is that the signal-to-noise ratio can drop and radio interference will cause erratic operations. Otherwise, it may be worth a try (some people think so anyway - but it is a very minor freq shift. Gold detectors, where gold is a very weak conductor use > 40kHz freq, even one at 71kHz (GB2) and 82kHz Gemini3). But most general detectors use 7.2 -19kHz range. So, a 2.78kHz increase should have minimal effect - but worth investigating).
Pattern2 is normally selected to include more disc to eliminate nails and/or trash items expected at the hunting site. The heavy disc patterns you see are for cherry picking high conductors. The more restricted the open areas become the more likely you'll be walking past deeper high conductors (which tend to be below (higher FE values) the expected 12Fe line). Those disc'd areas produce no audio, so use it judicially. For those looking for low conductors too (like rings & jewelry) the best pattern will need to allow trash too (open < 15Co - that's where rings hide) and also be limited in overall disc usage (to maintain detector sensitivity - though in trashy sites you have to maintain sanity too).
The tones are set for personal preference - but generally the desired target gets the high tone bin (usually narrowed around its common Fe-Co values).
Many choose two-tone ferrous (2TF). Set where everything with low Fe values (such as < 25Fe) will produce a high tone (you'll get high tones on most good targets plus trash items too).
Some parks and relic hunting involves tones of nails strewn about. 2TF in nails can have problems. The iron can cause high conductors like coins to respond with high Fe values, similar to the nail. It was found that in 2TC/4TC, or Multi-conductive (MTC), the med-high to high conductors, like coins (not nickels), will respond with a high tone where 2TF will not respond. If you use the conductive modes, any low-conductive rings should be double checked (e.g. set 4TC for high tone in the low conductive zone where thin rings hide).
Ferrous-coin mode is best used in non-mineralized soils or nail-free soils. Ferrous-coin is prone to audio nulls in nail beds and mineralized soils. Suggest using Ground-coin instead in those circumstances.
Use Auto+3 sensitivity for hunting recent drops and coins within the top 4-6". If you are serious about getting the deeper coins (6-12") and low conductors (even near the surface), switch to manual sensitivity. Generally, the CTX becomes more sensitive than Auto+3 when Manual Sensitivity > 15. Manual is quirky/sparky as it is more unstable, introducing more noise (lower sig/noise ratio), but it is much deeper. On the beach where coins are near-surface Auto+3 is fine (and quiet). If small jewelry is included at the beach, it might improve your chances using Manual. If you have the time, grid-hunt in Auto+3 and then re-search in Man+30 to pick-out anything missed.
Recall the sensitivity arrangement: left value is highest sensitivity available (out of 2 freqs used plus ground, called channels) or if in manual the left value is the sensitivity you've set. The right value is the suggested sensitivity (an average of all channels) from the detector's algorithm.
When the soil is mineralized/iron-strewn, expect the suggested sensitivity to be low (use it as your guide). The greater the difference between the manual set value (left) and suggested (right), the more likely noise will be a problem. If it is too sparky in manual, drop the manual sens value down until it is more stable.
One note on manual vs. auto choices. Iron has a permeability > 1, and will drive the magnetic lines of flux (from the coil) through it's length. With nails in a preferred horizontal resting position the coil's field will be spread wide but gain little depth. The same thing goes for magnetite layers (horizontal bars). Depth will be greatly reduced. Increasing the sensitivity has little to no effect on increasing depth in that case (may only increase unwanted response from nails, especially when wet). So, sometimes it is best to take it easy and back down the sensitivity - a more stable detector is easier to locate true audio responses from those conductive tones.
You can see the difference with sensitivity between Auto and Man from the diagram below (all things being equal).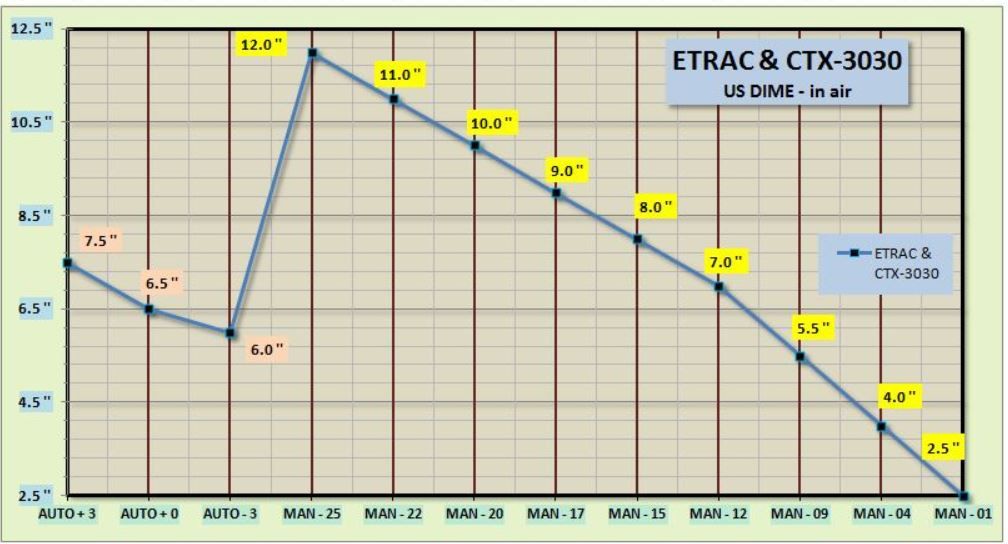 There are many, many patterns/tonal combinations ... just take a moment and think about the targets you are trying to 'capture' and design your own pattern/tonal arrangement for your type of hunting. If you are starting out, first try 50-conductive tones with no disc pattern. It will give you the full range of tones and responses. Once you've hunted with this set-up for about 40 hours - your ears will be acclimated to the CTX and how targets good and bad respond (it'll be tough at times but worth it). Then start playing with patterns/tones - you've earned it.