Hey all,
Before I post this in "Stories" of finds, I'd like to figure out what it is!
Some of you know I'm on a business trip to Israel. I pulled this off the Tel-Aviv beach, today, in about 5-6 inches of sand. I'm pretty sure it'd been there a few weeks, but clearly not long enough to blacken up the silver.
The weirdest part, is that while the coin LOOKS gold, it definitely had some green verdigris on it on the back of the coin [inside of ring]. It rubbed off in about 2 seconds with my finger nail (there's a before an after pic of it, below).
I've done searches on what I think the coin could be and the lettering, but I cannot find ANYTHING that even remotely resembles it.
The ring is definitely a custom/hand made one. It's definitely now a jewelers cast (it's been cut and hand hammered, too).
It's a wicked cool find, but I'm clueless what the coin is, on the inside. I can't even test it for at least 2 weeks (as I'm overseas), so there's no way for me to confirm it's gold nor not.
Help?!
Edit: One of our fantastic forum members, put me on the right track with this post:
Originally Posted by achaios View post
Not a "widow's mite". It is a bronze coin from the Byzantine empire, and without being able to see the obverse, I have no idea which ruler. I'm sure it is 6th-7th century AD, though. I'm not sure, but I B on either side of the cross may be 12 nummi.

-- Tom
Nutshell, is that Tom is SPOT ON (amazing diagnosis, there, Tom!), this is a 12 Nummi Byzantine Bronze coin minted in Alexandria. By pointing out that it's an I B with a CROSS in the middle. A quick google image search of "I B Cross Bronze Coin" shows a variety of examples that match the lettering and configuration, clicking on a few confirm also, that Tom was on the money when he noted it was minted in Alexandria.
History of Alexandria that is important to the conversation:
Alexandria was founded around a small, ancient Egyptian town c. 331 BC by Alexander the Great. It became an important center of the Hellenistic civilization and remained the capital of Hellenistic and Roman and Byzantine Egypt for almost 1000 years until the Muslim conquest of Egypt in AD 641
The coin is definitely bronze, too. After looking more closely at the metal, it reminded me of what happens to an Indian Head Penny under a high polish. Turns kind of a buttery yellow with a hint of red to it. That's definitely what this is, and it explains the bronze disease that is cropping up in the crevices.
The coin, set in the silver ring, definitely follows the I - Cross - B configuration, and that let me do image searches. At Tom noted, though, without an obverse to determine exactly which coin it was (at least easily), it came down to comparing letter placements on coins to figure out EXACTLY which one I have... It's pretty easy to rule out, many of them, based on simple things, like the size of the B, the design under the cross, the length of the line under IB, or the placement of letters under the line...
It just came down to comparing exact mint details on the reverse to isolate the specific coin... I could rule out coins that had lines under the Cross, such as this: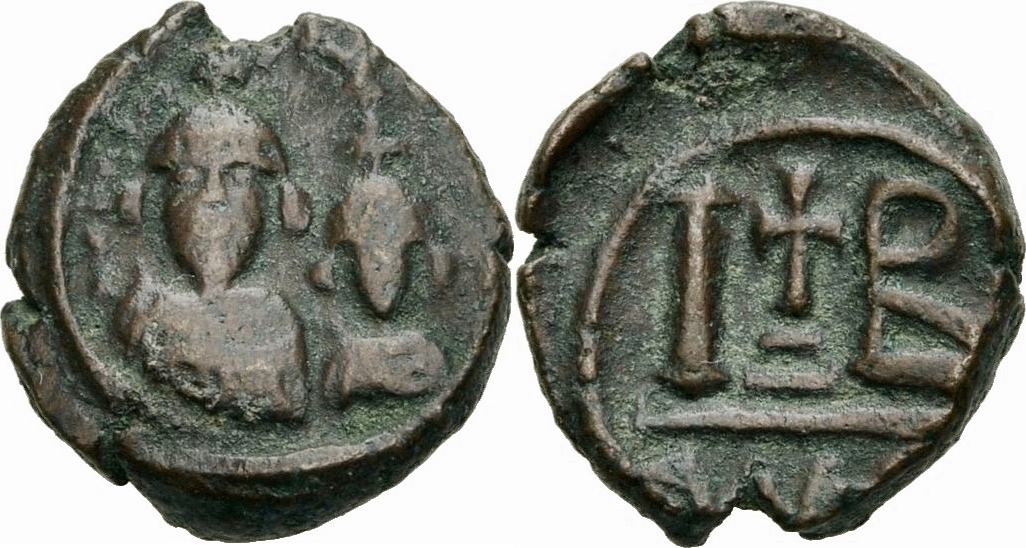 I expected finding a perfect match, of course, would be darn near impossible, as hand stamping rarely produced perfect copies... add to that a slight disfigure of the coin due to the patina, and then subsequent REMOVAL because it was polished, and a lot of details just become a bit distorted.
BUT! Given that information, I was hopeful, there would be SOMETHING close enough, that I could say, "oh yeah, I'm 99% on that one..."
This best guess (after literally HOURS of searching, btw), comes from an eBay listing of 3 Justin II 12 Nummi coins, by Hartland Collectables in London.
https://www.ebay.com/itm/3-JUSTIN-II...MAAOSwZ3BaWe0d
Going on that, I continued to research Justin II 12 Nummi coins, and they're all nearly identical to mine. Here's an example from Wildwinds.com (a great site, I've used for years!):
In the above example, the separator line is slightly smaller, but it's enough nearly perfect detail that I'm confident the reverse is indicative of what used to be on the Obverse
Basically, Friendly Metal Detecting Forum (especially Tom), nailed another one!
Justin II. Alexandria mint. 565-578 AD. Æ 12 Nummi
Thanks!
Skippy