I have a new spot not even a few miles away from my house. The spot has been great to me in the last week! I officially have a honey hole!
6/6/2012
I decided to try my luck in some woods that are right next to a home that I found dates back to the mid 1800's. Instead of hitting around where the house once stood I decided to try my luck in the woods right next to the home. I believe it was once their farm field as it is dead flat and has next to no undergrowth. Easy soft soil and shallow targets. All of the trees appear to be the same age as well.
In about 2 hours in the woods there I found my very first 2 cent piece, 2 Indian Head pennies and over a dozen misc flat buttons. The 2 cent piece is a 1864. I also found a Large Cent. Not sure of variety or age.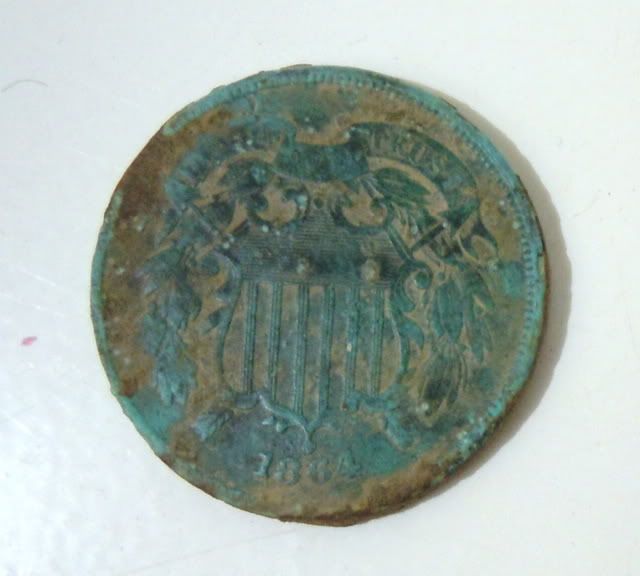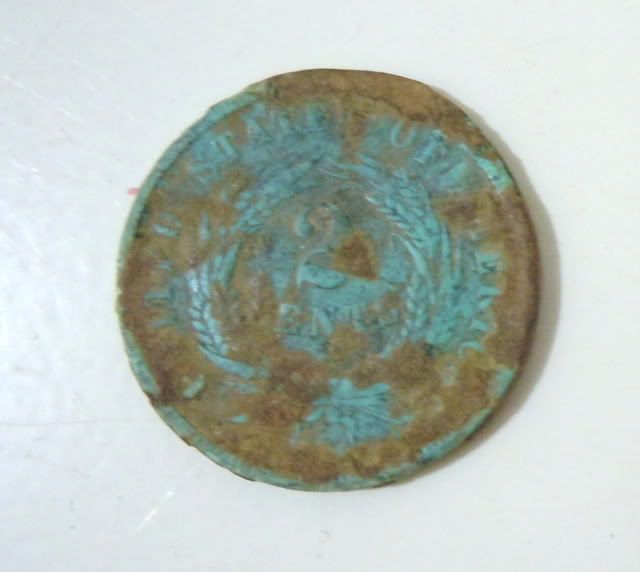 My very first video! 2 Cent
UPDATE: 6/7/2012
I decided to go back to the location again today (6-7-2012) and test my luck a second time and actually start to grid it off. In the first 15 minutes I found another Indian Head. Great start to my day. 15 minutes after that I got a clear and loud 83 on my AT-Pro and knew it was a dime. It was only reading between 2"-4" so I honestly thought somehow it was a clad dime. I was wrong.. My very first seated coin. A 1853 Seated Dime in pretty good condition. Below is a video and a photo of it cleaned up. I also ended the day with 7 Indian Head pennies and 1 copper that I believe to be a Half Cent that will be cleaned to identify and then posted.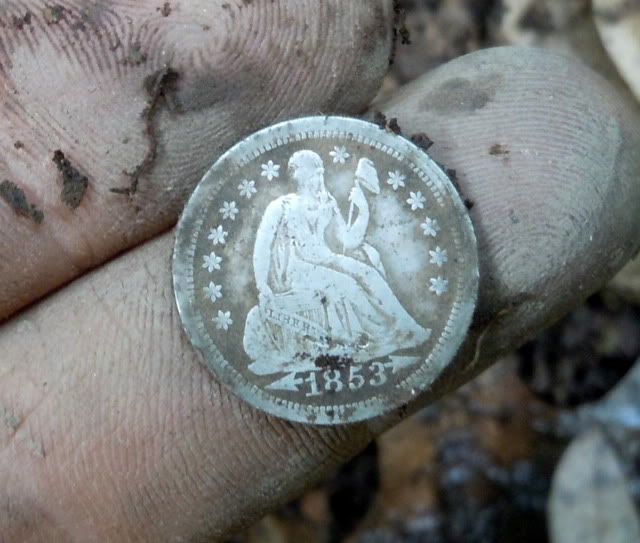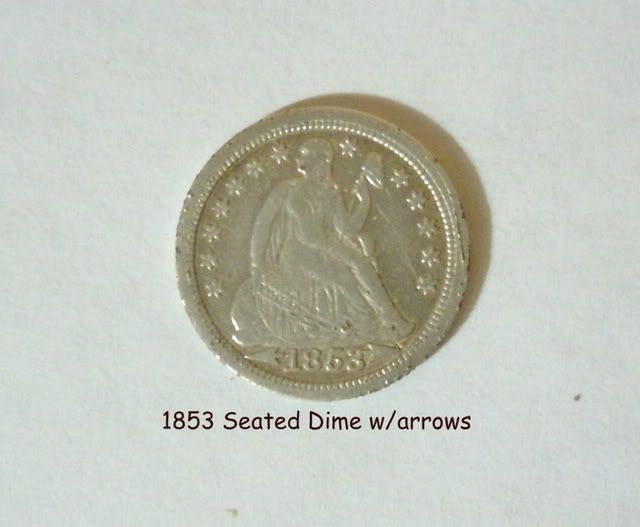 Seated Dime on Video!!
UPDATE: 6/8/2012
I went back down to the same site and pulled 5 more Indians tonight lol. I only got to cleaning the front to identify. Heading back there in the morning to hit it up with a buddy.
Total so far is 18 Indian Heads from this site, 1 Seated dime, 1 two cent piece, 1 toasted large cent, 1 extremely toasted shield nickel and 1 toasted half cent. As I try to clean finds I will photograph and post them.
Below is the 5 from this evening.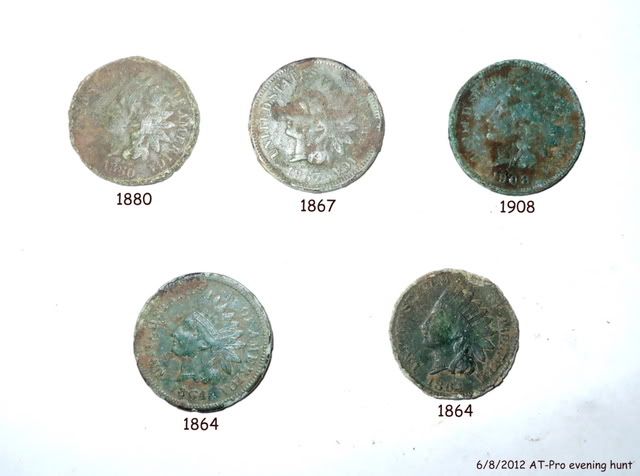 UPDATE: 6/11/2012
I went back out again today. I ended up with 2 shielded nickels that are pretty toasted, 14 more Indian Head pennies and another 2 Cent. That makes over 30 Indians, 5 two cent pieces, 3 shielded nickels, seated dime and more then 20 buttons so far.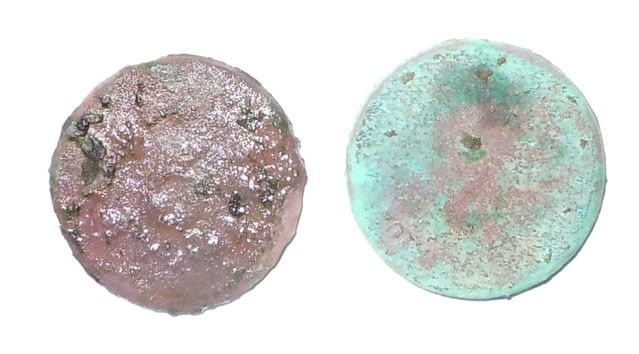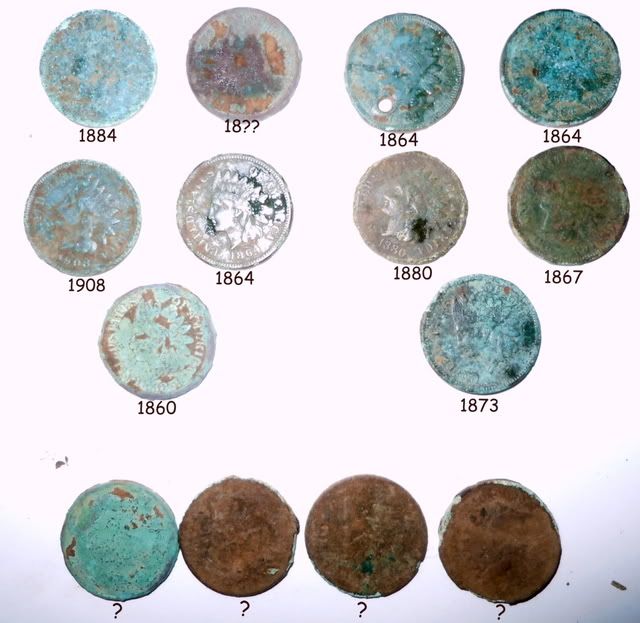 Everything but the small key and the full rifle round was also found at this site. Everything else is from this site as well. As I clean things I will post them.
UPDATE: 6/12/2012
The finds from 2 hours in the rain and digging in mud. 3 Indian Heads and another shield nickel. I am still working on cleaning up the nickel with out ruining it like the last ones.
Videos from today... 6/12/2012
Video #1 Indian head.
Video #2 Indian head
Video #3 Shield nickel
Video #4 Indian head
UPDATE: 6/13/2012
Went out there for a little. Hitched a ride there but had to walk the 3 miles home. Only finds we're one broken copper ring, musket ball, 2 buttons and one Indian head. Tried to hit some different areas but tomorrow I will go back to gridding the productive section.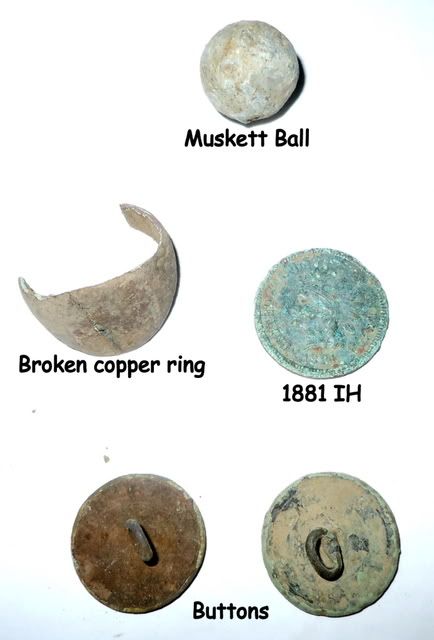 Videos from today 6/13/2012
Video #1 Copper ring
Video #2 Indian Head
UPDATE: 6/15/2012
Went down to the honey hole with a buddy today. The streak continues. Signals are getting farther apart though that's for sure. Today another 9 Indians were found along with some musket balls and relics. Buttons as well. That is 45 Indians in total now. Thats crazy!!!
Videos from today 6/15/2012
I dont know what happened to the 1st video... I apologize for that.
Video #2 Indian Head
Video #3 Indian Head
Video #4 Indian Head
Update: 6/17/2012
My one and only coin of the day was one Indian Head. Only stayed down there for a little over an hour. So far a total of 46 Indian Head pennies have been found here now. The majority by me with I believe 6 found by others. Also four 2 cent pieces however only 2 were mine and I have found 4 shield nickels and one seated dime. Amazing totals not including the buttons and relics.!
I will post a photo of it once I clean it and get a date.!
Video from today 6/17/2012:
Video #1 Indian Head
UPDATE: 6/24/2012
The spot surprised me today with two nice seated silver coins tonight. One a seated dime the other a seated half dime!!!
I decided around 7pm to head out and get maybe 2 hours or so of detecting while the sun was going down and it was cooler out. Coins have been few and far between recently there so I have been trying my luck recently at some other locations. Nothing really good besides the gold ring earlier in the week so I decided to go back to my "honey hole".
After about 45 minutes of gridding low and slow and only finding a few head-stamps I started to think my luck here was running dry. As I was having my doubts about what I was going to find tonight I heard it... That sweet high tone. Number was reading a steady 80-83 on my AT-Pro. Depth was 2"-3". I was hoping for silver but it could have been a clad dime. Pretty sure it was a dime either way. After a fairly easy dig to get to it there it was. My FIRST Seated Half Dime! This place did produce a seated dime for me already but I wasn't expecting a half dime. I got pretty excited. One side is pretty worn but the other has decent detail. It is a 1843 with a lot of wear but a clear date. Other side is pretty worn. Minor scratches I believe caused by me when getting the dirt off.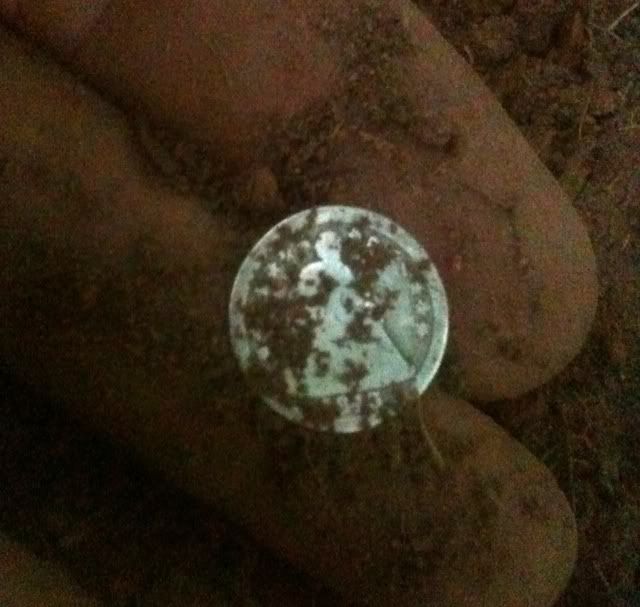 I continued searching for about another 45 minutes with nothing to show for it but trash I got another great sound. A pretty solid 81-82 on my AT meant dime. This one was right at the base of a tree. Steady 2"-3" down again. That has been the average depth of the coins here by the way. After a surprisingly easy dig at the base of the tree out popped my second Seated Dime. It is my second in general and both from this location. The seated dime is a 1857. It is a little worn but that doesn't bother me at all. Just happy to have found it.
I stayed until around 10:30 and dint find anything else. Figured since it was completely dark now and I wasn't finding anything to head out for the night. Two silvers is fine with me. Especially 2 seated silvers

I apologize for no videos and poor in field photos but I only had my cell phone and the woods were a lot darker then my phone could handle.
Here are the two seated coins after I cleaned them up a little...
1843 Seated Half Dime: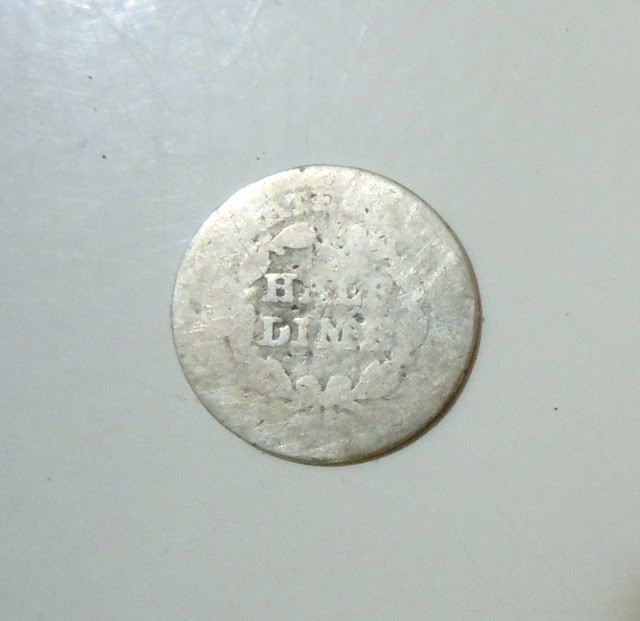 1857 Seated Dime:
Both together:
This place continues to amaze me and I will continue to hit it hard swinging low and slow and gridding it off. I wont stop until there isn't a single signal left.
UPDATE 6/25/2012
Back at the spot for 2 hours today. I got two more Indian Heads and another shield nickel. The spot continues to give me coins. I may go back again tonight.
Videos from today: 6/25/2012
Shield nickel - 6/25/2012 - Video #1
Indian Head - 6/25/2012 - Video #2
Indian Head - 6/25/2012 - Video #3
UPDATE - 6/26/2012
The honey hole does it again and I guess the streak there will never end lol. I was there for roughly 3 hours and this was the only keeper. I believe a hunter must have dropped it more recently as it wasn't down to the clay like the coins and it was in great condition when I pulled it. Also a "newer" style.
Second gold ring in a week and the third since I started detecting. This one surprised me at the honey hole last night. I thought for sure it was either an old nickel or most likely another head stamp. On my AT-Pro it was ringing between 50-53 and it was only 2" down next to a tree between some roots. It weighs 3 Grams and its stamped 14Kp. I will get it tested tomorrow to verify that.
Below is 2 pictures from me finding the ring and one of it cleaned up.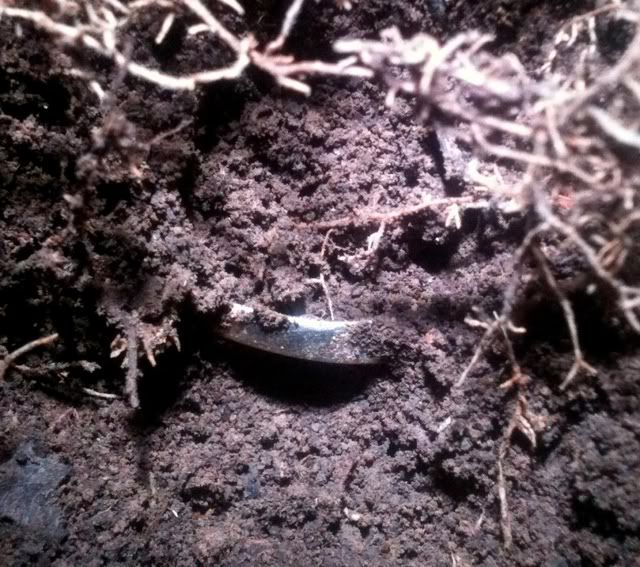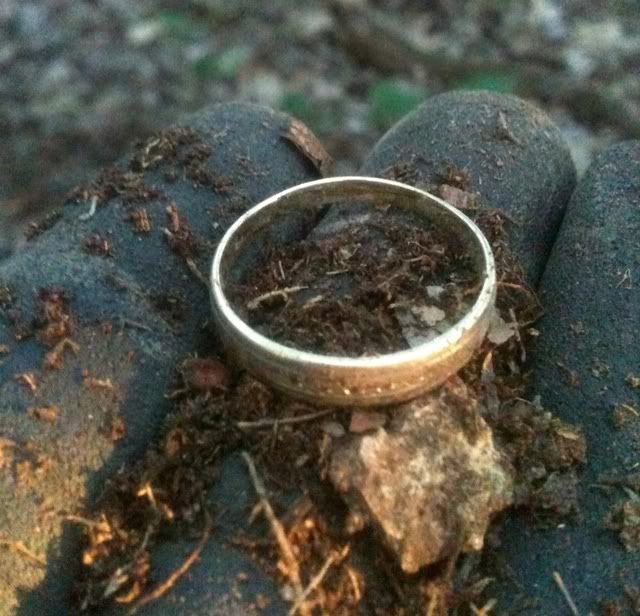 Video from today 6/26/2012
3rd gold ring - 6/26/2012 - Video #1
UPDATE: 6/27/2012
Met up with some new guys (dirt-diggler and padirtfisher) to help give them some tips and decided to give them a shot down at my honey hole. Unfortunately I was the only one with keepers today but they got some info on their new AT-Pro's so I hope it wasn't a waste for them.
First coin of the day was an Indian Head. 65-67 at the base of another tree. Easy digging here as usual and shallow. Here is a pic when I first dug it. I myself have dug 49 Indians from here already now!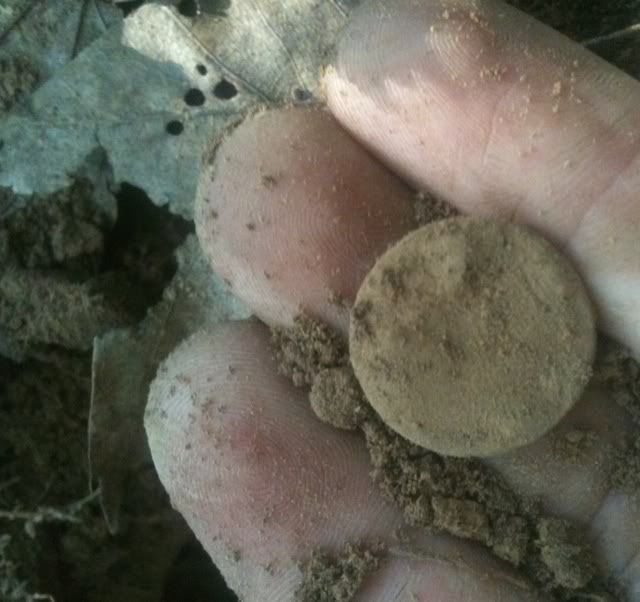 The second coin I really thought was going to be a dime as it was a dead 81 on my AT however it turned out to be a Large Cent. I believe that is the second from this location. Under some roots and pretty easy top get to honestly. Here is a pic when I first dug it.
The last coin of the day was my best. My very first Barber dime. Rang up in the low 80's and was pretty shallow as well in the soil as well. Near a small tree too. Very happy to find this one. Below is a pic after I cleaned it a little.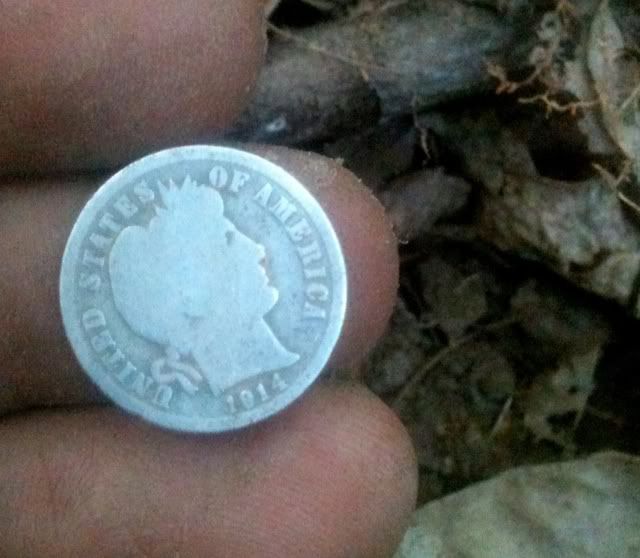 Videos from today: 6/27/2012
Indian Head - Video #1
Large Cent - Video #2
Barber dime - Video #3
Will take a better photo instead of using the phone once I find my camera. Below is todays finds.
UPDATE 7/22/2012
Haven't hunted down there at my spot in a while. Last few trips no coins and just some flat buttons. A last minute change of plans brought me back down there this morning. I was there for only about an hour total and actually left to work on my dads 63 Impala.
In that hour I pulled some more buttons and another great little silver. A 1890 seated dime. Clear 80 on my At-Pro and still in the same area I've found all the previous coins. Don't know how I missed the clear and loud dime signal before. It's in pretty good shape. No mint mark on it.
It is the third seated dime and the fourth seated coin in general for both me and this location. I did find my one and only seated half dime here as well.
I thought for sure since I haven't been even getting many signals at all including even iron that this place gave up everything it was going to. Apparently not.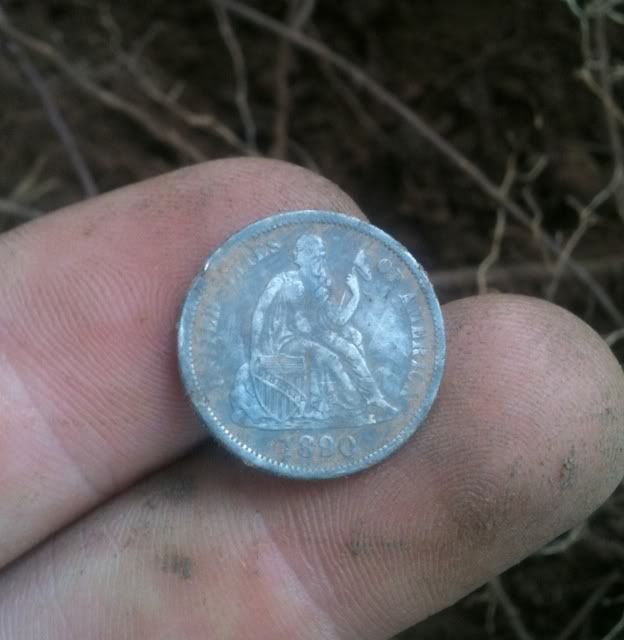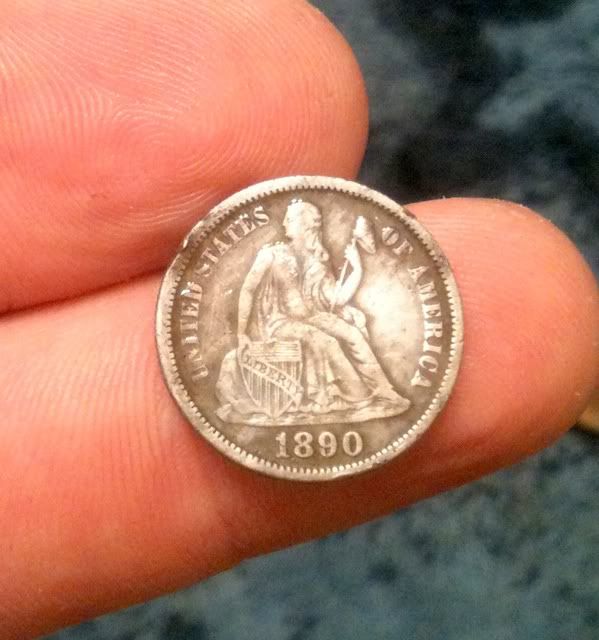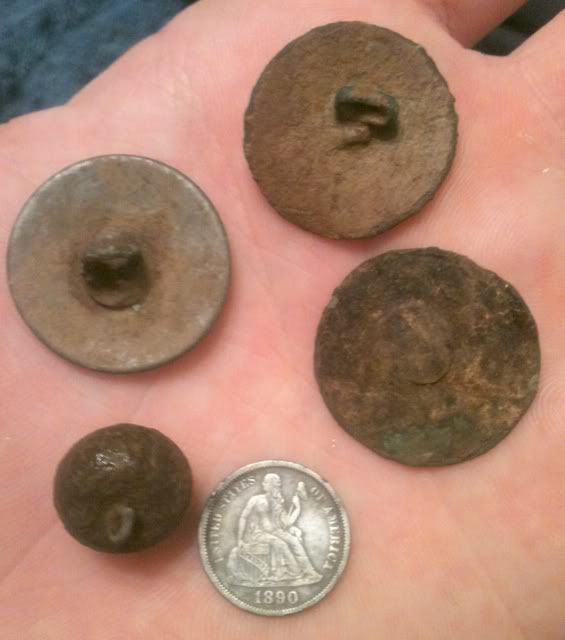 Seated Dime Video